If you are a Microsoft Volume License customer, the usual channel for obtaining creating a bootable USB for OS installation is to obtain the ISO images via the Volume License Service Center (VLSC) or Microsoft Business Center (MBC), and then using tools such as Rufus or the good old Windows USB/DVD Download Tool to write the ISO to USB. However, there exist situations whereby you can't get hold of the ISO in a timely fashion, such as when the person with the download rights went on leave, or that a new release is not yet available for download. In this article, I'll show you how you can build a bootable USB drive with the latest Windows 10 Enterprise release from scratch with just the Media Creation Tool from Microsoft.
Step 1 – head down to the Download Windows 10 page to download the Media Creation Tool. At the time of writing, 2004 is the latest version.
Step 2 – run the following command in the directory you've placed the download, and accept any elevation request that appears thereafter. In this example, we have placed the download within C:\Users\Jitdor\Downloads"
MediaCreationTool2004.exe /Eula Accept /Retail /MediaArch x64 /MediaLangCode en-US /MediaEdition Enterprise
Step 3 – A "Windows 10 Setup" window will appear that states "Getting a few things ready". Let it do its thing. After which, a product key prompt will appear. Key in your MAK or KMS key from your volume license agreement here, depending on your deployment method.
Step 4 – Once your product key is accepted, you will be presented with two options. Pick "Create installation media" and then choose the USB device you want to be used for the bootable installer.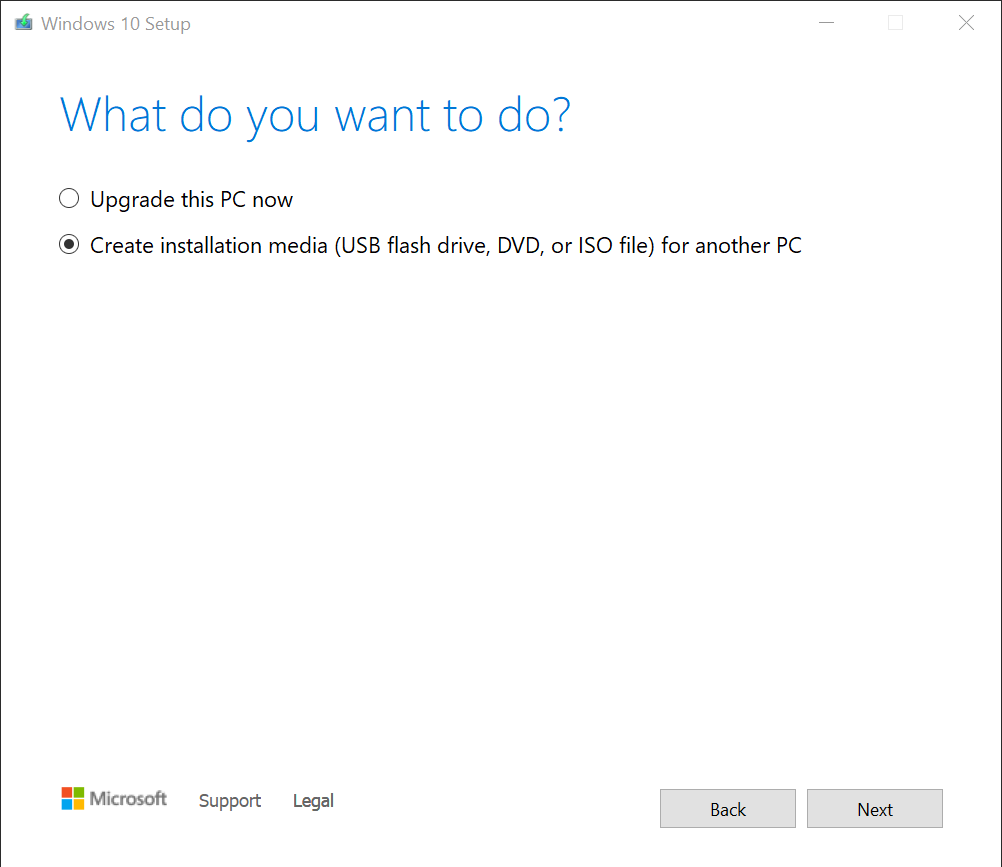 Step 5 – the tool will then download the required files and write to the USB drive. At the end of this process, you will get a bootable USB drive with the latest Windows 10 Enterprise installer. It works in UEFI mode, too.